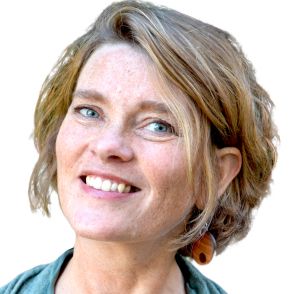 OPINION by Audhild Sinnes psychologist
The straws bend softly to the side where I look for space for my morning tired toes. A small frog splashes away with a clumsy pirouette. In front of me, the mountain water flashes welcome to a new summer day. As my left ankle passes the water crust, I hear it for the first time: boom!
I sting, my senses sharpen, my adrenaline is mobilized. Then the brain wakes up and gives me an explanation; the turbines are coming to the mountains! A new so-called "park" will be blasted out on the barren rock 4 km southeast of our cabin. The cabin without electricity and water that we chose because it was far from the road because it was surrounded by original Sirdal nature, it gave us what we needed most. Peace. The cabin will be located between giant industrial areas and power lines dimensioned to transport electricity to the German market.
Arrogant – and desperate
The summer of 2020 was the summer when dynamite explosions shred the silence and tagged the unrest into rocks and cliffs along the coast and in the mountains. Humans, birds, and animals jumped into fear and stress reactions as their safe havens were blown away. The wind industry has demonstrated its brutality in the landscapes it has occupied square kilometer after square kilometer. At Smøla alone, the number of sea eagles injured and killed by wind turbines has exceeded 100! (Norwegian Institute for Natural Research to Faktisk.no). Drinking water is contaminated. High-intensity light has destroyed the visual calm of the night sky and intense noise has displaced its silence. The danger of icing has turned ski terrain into no man's land. Our indigenous people's earnest plea to let the reindeer herds roam in peace has been arrogantly ignored, again! On Haramsøya, we are now witnessing an entire rural community's desperate struggle against supremacy.
Through reader posts and social media, we have access to people's despair. Fear, powerlessness, anger, and sadness characterize the descriptions of people who have had their places blown away to make room for the turbines. That animals and birds suffer are beyond any doubt. The fear of losing what was safe, what was at home. The pain of being alienated in one's own landscape. The unrest of being deprived of pure sources of restoration of balance and peace. The shame of feeling cheated by capitalists in green camouflage suits. Guilt's relentless pain. The gnawing restlessness of remorse. In the murmur of the turbines, people lie sleepless and bale with grief, shame, guilt, and fear of the future. Mental ill-health is created.
Ecological grief
We are many westerners who mourn. Many have sacrificed the most beloved they had in the industrialization of nature that few sensed the scope of before it turned out to be a great shame to turn around. Our devotion and trust in nature as a safe and stable quantity where we could get comfort and new energy is turned upside down as nature itself meets us with noise and open, bleeding wounds. A grief reaction can be complicated to understand, difficult to express, and unmanageable to deal with. If the grief comes as a result of political decisions, the grief work will also be a political matter. People who suffer great personal losses in order for society at large to realize their energy experiments, deserve to be seen, recognized, met, with humility, thanks, comfort. Ecological grief must be recognized, and the mourners met with empathy, not arrogance, and criticism for the way they mourn.
I have never seen the eriophorum more beautiful, felt the scent of heather stronger, or heard the stream trickle through quiet summer nights clearer than the summer of 2020, the summer I had to admit that I am about to lose all this. It is as if the threat from the roars in the background has sharpened my senses. While towards the end of the summer I let my body glide with long, gamy strokes through a heated mountain lake, my head has already begun to prepare for the autumn's therapeutic tasks. The wind industry will give us psychologists new challenges when it comes to dealing with mental pain in a political context, I think, as I swim steadily towards a new semester. In the therapy room, we see that mental pain often occurs where people struggle to adapt to systems in imbalance. As nature is tormented, we will all, in a more or less direct way, become acquainted with this form of mental pain.
Where is the comfort?
On the way up from the water, I become vary of the eagle sailing over the peak behind the cabin. I sneak in quietly to get the binoculars. I feel that I long to meet the eyes of the eagle. As if I want to look for answers from her. As if I think that if I could make eye contact with the eagle, I would be wiser. Well out with the binoculars, the eagle is gone. Which way did she fly? I hope she did not fly south, where Sirdal municipality has let Tonstad wind farm install 51 bird-killing turbines. I hope she has no errands east towards Knaben and Buhei, where there is now blasted room for 23 new turbines. Where can she fly safely, sirdalsørna? Where will the people on Haramsøya find peace and strength for a new winter out there in the ocean gap? Who can comfort us, humans, after we have laid waste our nature?