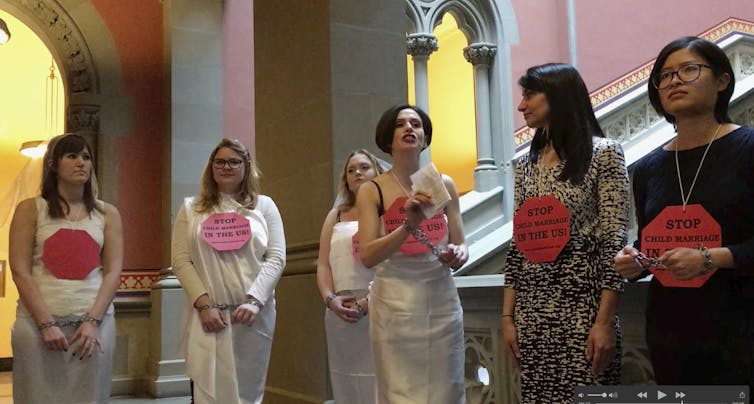 Nicholas Syrett, University of Kansas
The recent outrage over Alabama Republican Senate candidate Roy Moore allegedly targeting teenage girls for sex has elicited reports that some evangelical churches actually encourage teenage girls to date older men.
It seems unlikely that Moore was ever interested in marrying any of the women who have thus far accused him of unwanted sexual attention and assault. However, Moore is married to a woman 14 years his junior whom he first met when she was 15 and he was 29. These conversations about older men dating and marrying young girls have left many Americans surprised. The reality is that these practices are still around, as I learned in researching my recent book, "American Child Bride: A History of Minors and Marriage in the United States."
Minors and marriage
Child marriage has a long and vibrant history in the United States. While activists have long urged legislators to raise the age of consent to marriage – and continue to do so – with parental consent it remains possible for minors to marry in every single state.
Though some boys do marry, the vast majority of marrying minors are girls. This has been the pattern throughout U.S. history.
The minimum marriageable age in Alabama today is 16, though for most of the state's history girls could marry at 14 and boys at 17. Different minimum marriageable ages for girls and boys were common nationwide until the 1970s. While marriage as a minor is significantly less common today than it was in the early or mid-20th century – two periods with particularly high rates – it is certainly not a thing of the past. In the last 15 years, more than 207,000 minors have become legally wed in the United States, many marrying below the age of consent to sex in their states.
Data from the U.S. Census show that the marriage of legal minors has always been more common in the South. This may be one reason – aside from liking his conservative politics – that voters in Alabama seem less disturbed by Roy Moore's targeting of teenage girls. Leigh Corfman claims Moore initiated sexual contact with her when she was 14 in 1979. Nothing in the law would have prevented the two from marrying if they'd had her parents' permission.
Today southern states like Alabama, Kentucky and West Virginia have among the highest rates of minor marriage in the nation. They are also joined by Idaho and other rural states in the West. These states share high rates of poverty and are home to religious conservatives who often see marriage as the solution to teenage sex and premarital pregnancy. Some even condone marriage when it results from statutory rape. In many cases, district attorneys have been willing to waive prosecution if a girl's statutory rapist agrees to marry her and her parents are also supportive.
Who are child brides?
Child marriage has long been portrayed as an issue in the developing world – especially in India and various nations in Africa and the Middle East. Americans are often surprised by its persistence right here at home. Many assume that it was a practice brought to the United States by immigrant populations, or one used in isolationist religious sects. Neither belief is borne out by the numbers.
Even at the height of immigration to the United States in the 1910s and 1920s, U.S.-born white children of U.S.-born parents were more likely to be married as minors than were immigrant girls of the first or second generation. U.S.-born black girls were about one-and-a-half times more likely to be married than were white girls. In both cases, poor girls in rural states accounted for the numbers.
Opposition to child marriage in the United States also has a long history, dating back to the middle of the 19th century. Women's rights advocates like Elizabeth Oakes Smith and Elizabeth Cady Stanton called marrying as a minor "the great life-long mistake." They argued it deprived girls of the opportunity to develop into womanhood and some semblance of independence before they yoked their lives to a husband and began to bear children.
While the legal minimum marriageable age has gone up in almost all states since the 19th century, almost all states have exceptions built in that allow parents and/or judges to consent to the marriage of minors below the stated minimums, in some cases if they are pregnant, in others if they are already emancipated minors. This means that with judicial or parental consent, children as young as 10, 11 and 12 have been married in the U.S. in the last couple of decades. When exceptions are taken into consideration, 25 states actually do not have an absolute minimum marriageable age.
When activists have sought to eliminate those exceptions and ban marriage prior to age 18 outright, as they are attempting to do in about 10 states nationwide today, they have met with substantial pushback. Some religious conservatives worry that without access to marriage, pregnant girls might turn to abortion. Others simply place faith in the institution of marriage to establish a happy and financially secure household. This is despite the fact that studies have shown that marriage as a minor is much more likely to lead to divorce, to dropping out of high school, to spousal abuse and to mental and physical health problems.

Only when Americans are able to have more honest conversations about what marriage really looks like – as opposed to some idealized image of marital perfection – are we likely to see the abolition of child marriage in the United States.
Nicholas Syrett, Professor of Women, Gender and Sexuality Studies, University of Kansas
This article was originally published on The Conversation. Read the original article.