Maybe Texas should rejoin America's power grid.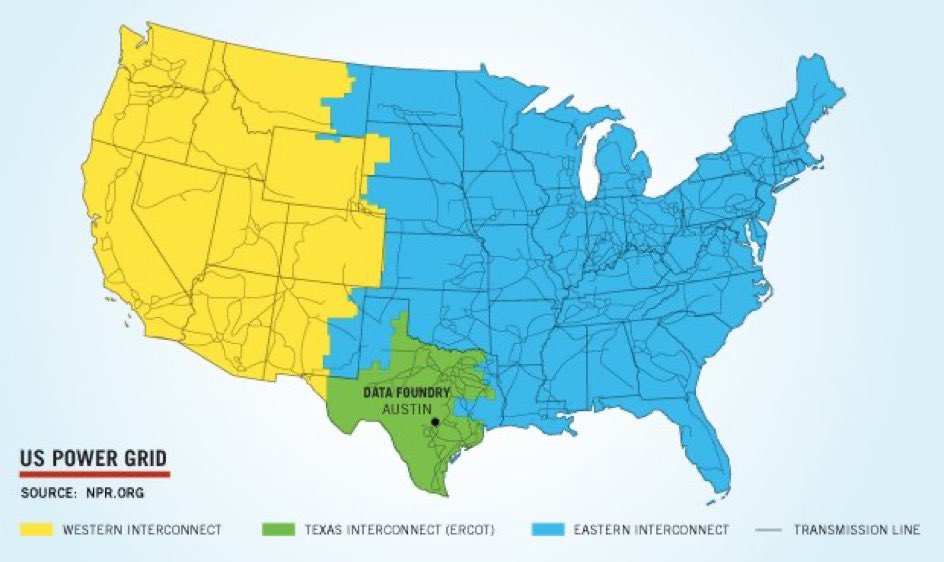 This is a good time to note that the electrical grid in Texas was deregulated, privatized, and removed from interconnected networks to avoid federal regulation and increase profits to a small number of wealthy individuals. 88% of Texas electricity is supplied by natural gas and coal power plants.
Texas also suffered from power plant failures in 2011 due to unusually cold weather. Their solution? Pass a law requiring power plants to submit regular reports detailing their winterization plans. Texans, there's only one group to blame for this disaster: your politicians. @swimmerbr78
I'm sorry, but if you've never dropped your kids off in Cancun for a play date during a pandemic and a humanitarian crisis in your home state that's probably because you're just a liberal Hollywood elitist with no values. @ashleyn1cole
When your 10-year-old daughter asks you to fly her to Cancun to party during a combination winter blackout/pandemic you don't ask questions, you just do it.
His multiple suitcases.
His original return ticket date.
Trying to upgrade seats away from his family.
Outfit change on the plane so he could walk into the resort in shorts.

Seems totally legit for someone who didn't plan on staying in Cancun.
Sen. Cruz booked his return ticket from Cancún to Texas at 6 a.m. Thursday.
Ted will go on Hannity tonight, he'll blame Hunter Biden, the deep state, AOC, and windmills, Hannity will nod approvingly, and all will be good. @WalshFreedom
The same guy that was so worried about Mexicans coming into our country to seek a better life is fleeing to MEXICO to seek a better life for his children…
When given a choice between five days at the Ritz Carlton in Cancun with Ted or freezing with no electricity in Houston, every single one of Cruz' friends and neighbors stayed behind.
As it has been said, you can know someone from how they treat their dog.
The dog's name, wait for it, it's Snowflake!
"… a man stepped out of the Suburban parked in Cruz's driveway. "Is this Senator Cruz's house?" I asked. He said it was, and identified himself as a security guard. When asked who was taking care of the dog, the guard volunteered that he was."https://t.co/fhMdMKvuWG

— 𝕾𝖙𝖔𝖗𝖒𝖜𝖆𝖙𝖈𝖍 (@deOrygun) February 19, 2021
The Texas Democratic Party is now once again calling on the senator to resign.
"Ted Cruz jetting off to Mexico while Texans remain dying in the cold isn't surprising, but it is deeply disturbing and disappointing," party chair Gilberto Hinojosa said in a statement on Thursday. "Cruz is emblematic of what the Texas Republican Party and its leaders have become: weak, corrupt, inept and self-serving politicians who don't give a damn about the people they were elected to represent. They were elected by the people but have no interest or intent of doing their jobs." HuffPost
Twitter canceled Ted's vacation.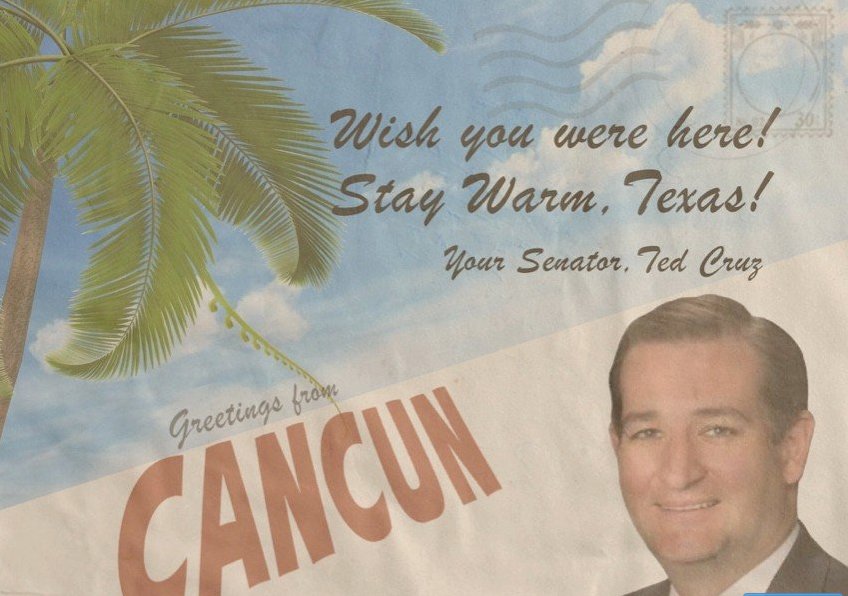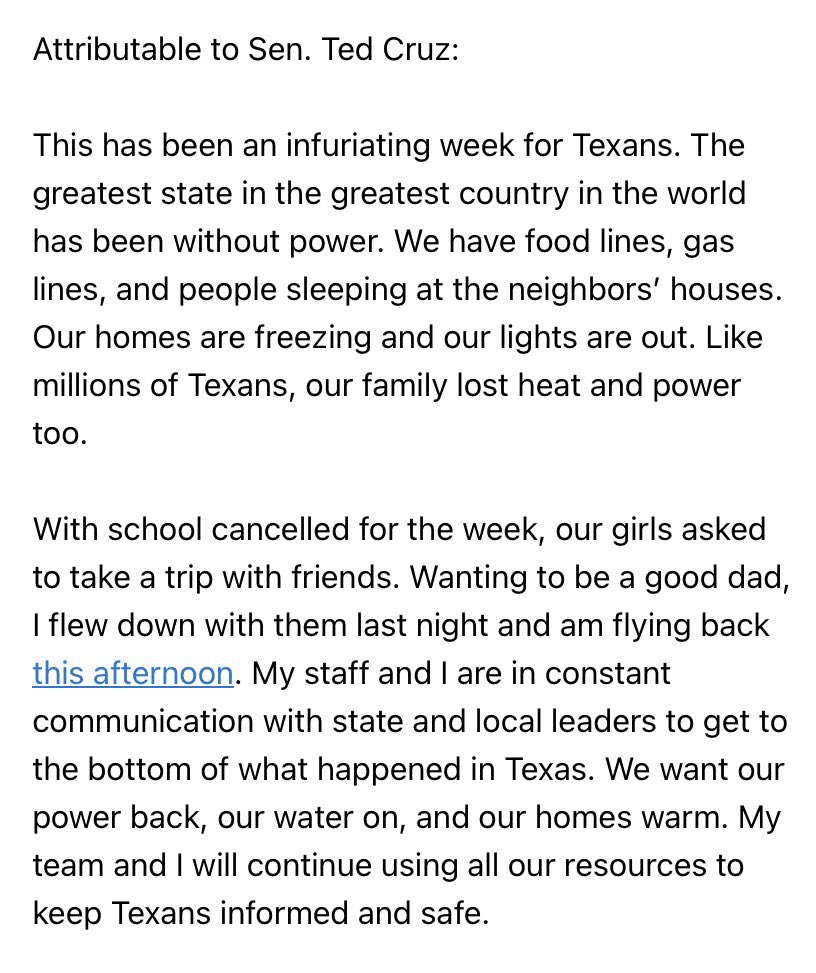 That's a big ass overnite bag… pic.twitter.com/4z3drJKrCC

— Rex Chapman🏇🏼 (@RexChapman) February 18, 2021
When your dad blames you for his decision to abandon his state during a crisis pic.twitter.com/fxTnTNd5SP

— Mike Drucker (@MikeDrucker) February 18, 2021
Since Ted Cruz is missing his Mexican vacation, maybe we should send a mariachi band to his house to cheer him up.
People at Ted Cruz's house, waiting for him to get home. pic.twitter.com/3juZZ7nIa5

— Joshua Potash (@JoshuaPotash) February 19, 2020
You're the governor of a state where millions don't have power, where people are literally dying of exposure, and you go on Fox news to talk about… the Green New Deal? You are the governor. Your party has run Texas for 20 years. Accept responsibility & help us get out of this. https://t.co/G1Bai59nKc

— Beto O'Rourke (@BetoORourke) February 17, 2021
Texas is showing the future Republicans want: One in which they respond to large public challenges by retreating into their alternate information universe and insulating themselves from accountability with redoubled countermajoritarian tactics. My latest:https://t.co/p493hsiP1Q

— Greg Sargent (@ThePlumLineGS) February 18, 2021
Look at this shocking statement put out by the Mayor of Colorado City, Texas. It accurately reflects their attitude about this. The outrage that ensued forced him to resign last night. pic.twitter.com/PtOHa3HarU

— Ron Filipkowski (@RonFilipkowski) February 17, 2021
The Senator from Texas saw a crisis and escaped to the Ritz Carlton in Cancun.

Meanwhile, a congresswoman from New York – whom that TX Senator regularly uses as a punching bag – just raised a million dollars for Texans.

One party works for you. The other works for themselves.

— Brian Tyler Cohen (@briantylercohen) February 19, 2021
.@tedcruz welcome back to the US, found these while you were gone pic.twitter.com/kb1TKs1JhP

— The Daily Show (@TheDailyShow) February 18, 2021