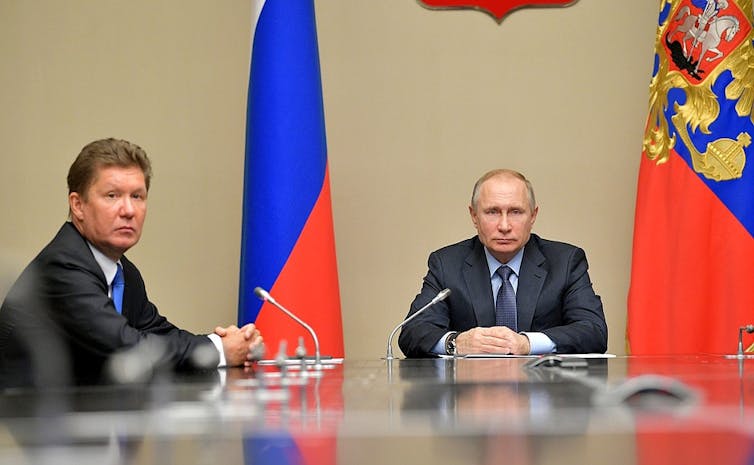 Nicolai Due-Gundersen, Kingston University
We will support oil and gas companies but we will also control their work
– Russian president Vladimir Putin
The Iraq War saw the use of commercial military forces – mercenaries – to an extensive degree unprecedented in the modern era. One of the military contracting firms, Blackwater (now Academi), saw four of its security contractors charged with killing 31 people at a Baghdad roadside shooting in 2007 (sentences which were overturned last year). That same year, 2007, there was a similar shift in the nexus between business and security in Russia when Moscow's parliament voted to allow its energy giants Gazprom and Transneft to effectively create their own militaries, with weapons and technology supplied by the Kremlin.
In fact, Russia's energy firms have followed a trend first started by British oil and gas firms, many of which have hired security contractors for operations in unstable regions. The next logical step is to merge the two: newly armed energy firms become militarised resource companies (MRCs), a wealthier and more resource-rich counterpart to private military companies (PMCs) such as Blackwater. With a well-armed corporate militia, Gazprom and others can aggressively protect assets at home and abroad, and may soon play a major role in Russia's energy plans for Syria.
Before the civil war, Syria produced over 400,000 barrels of oil per day. But by 2013 the number had dropped to 58,000. And so by January 2018, Syria's beleagured president Assad had signed an agreement with president Putin, Assad's strongest supporter, giving Moscow sole rights to oil and gas production in Syria.
In a sense, Russia is the perfect candidate to monopolize such an offer. Moscow remains unafraid of sanctions against Assad's regime while Putin himself faces similar restrictions by Western leaders. If Russia wishes to realize a long-term goal of turning Syria into an energy transit hub for unrestricted sales in Asia, it will be expected to pump US$30 billion or more into restoring Syria's energy infrastructure. In exchange, Russia will have a stronger presence in the Middle East and the eastern Mediterranean. Anyone courting Syrian energy will be expected to flatter Putin the oil Tsar as much as Assad himself. And the proximity to China as a market is especially attractive at a time when Sino-Russian relations are blossoming.
Gazprom is well-placed to represent Russia's expansion into Syria. Gazprom has groomed its relationship with Assad over the years, so much so that a rival offer by Qatar to construct a gas pipeline was brushed aside by the Syrian leader, who cited his country's excellent relations with the Kremlin and Gazprom specifically as the preferred operator of new hydrocarbon fields.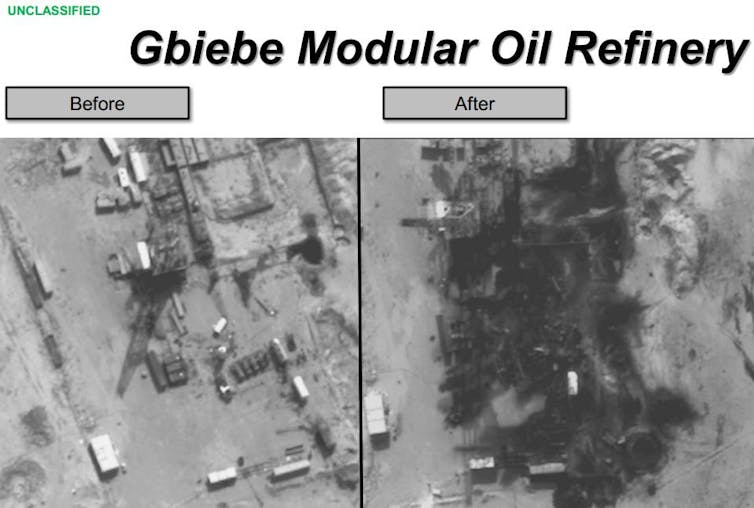 A new sheriff
Many Russian energy giants are itching to return to Syria as the likelihood of stability increases. Assad has responded generously with an invitation to such firms promising lucrative incentives for companies willing to restore Syria's energy infrastructure. The prolonged presence of Russian workers would easily justify military precautions by the Kremlin. Thanks to the 2007 law, such precautions can be taken by the companies themselves. Energy giants like Gazprom (who are rumored to have pushed for the legislation) will be armed and ready.
Gazprom is already described by some as a state-within-a-state, boasting control of one fifth of global gas reserves. Should Russia deepen its activities in Syria through Gazprom, it will be exporting Gazprom's corporate military to an already politically complex and fragile region. Perhaps this complication will erode Syria's stability further.
Even if Assad regains complete control, a militarised resource company will no doubt create a situation similar to Ecuador, in which foreign oil firms dictate the political arrangements of their local environment, effectively usurping the state and that state's military so that it is the oil and not the people who are protected.
The risk of multinational oil companies eroding the sovereignty of a weak state is a threat also faced by Iraq (where Gazprom also operates). In an effort to combat the risk of such political erosion, Iraq attempted to regulate the activities of military contractors by establishing the so-called Oil Police. The move effectively sent the message that Iraqi oil was for sale but not its sovereignty, meaning that contractors (and multinational companies) were banned from guarding oil and gas installations. The move has had a limited effect. Since their inception, the Oil Police have struggled with defending infrastructure from attack, citing poor training and a lack of resources.
And oil is Iraq's only commodity. Without the presence of international energy firms, Iraq's already tumultuous economy would worsen in a country where almost 50% of its GDP relies on hydrocarbon sales. For Assad, Russia remains his strongest supporter and a key reason he has clung to his iron throne. When stability returns, Putin will demand his reward.
Gazprom may be a private company, but its ties to the Russian government make it the perfect instrument for political intervention in the energy arena. While Russia has been accused of using mercenaries in Syria, the next move is to export influential corporations that come with an integrated military (under state supervision). Russia is by no means withdrawing from Syria. As Gazprom adds even military-grade drones to its security assets, we must wait to see whether Assad is able to control the foreign oil and gas companies operating in his country, or whether it is these firms, with the oil and gas assets firmly under their control, who commands him.

Nicolai Due-Gundersen, PhD Candidate and Political Analyst, Kingston University
This article is republished from The Conversation under a Creative Commons license. Read the original article.