Ukrainian woman confronts Russian soldiers in Henychesk, Kherson region. Asks them why they came to our land and urges to put sunflower seeds in their pockets [so that flowers would grow when they die on the Ukrainian land] pic.twitter.com/ztTx2qK7kB

— UkraineWorld (@ukraine_world) February 24, 2022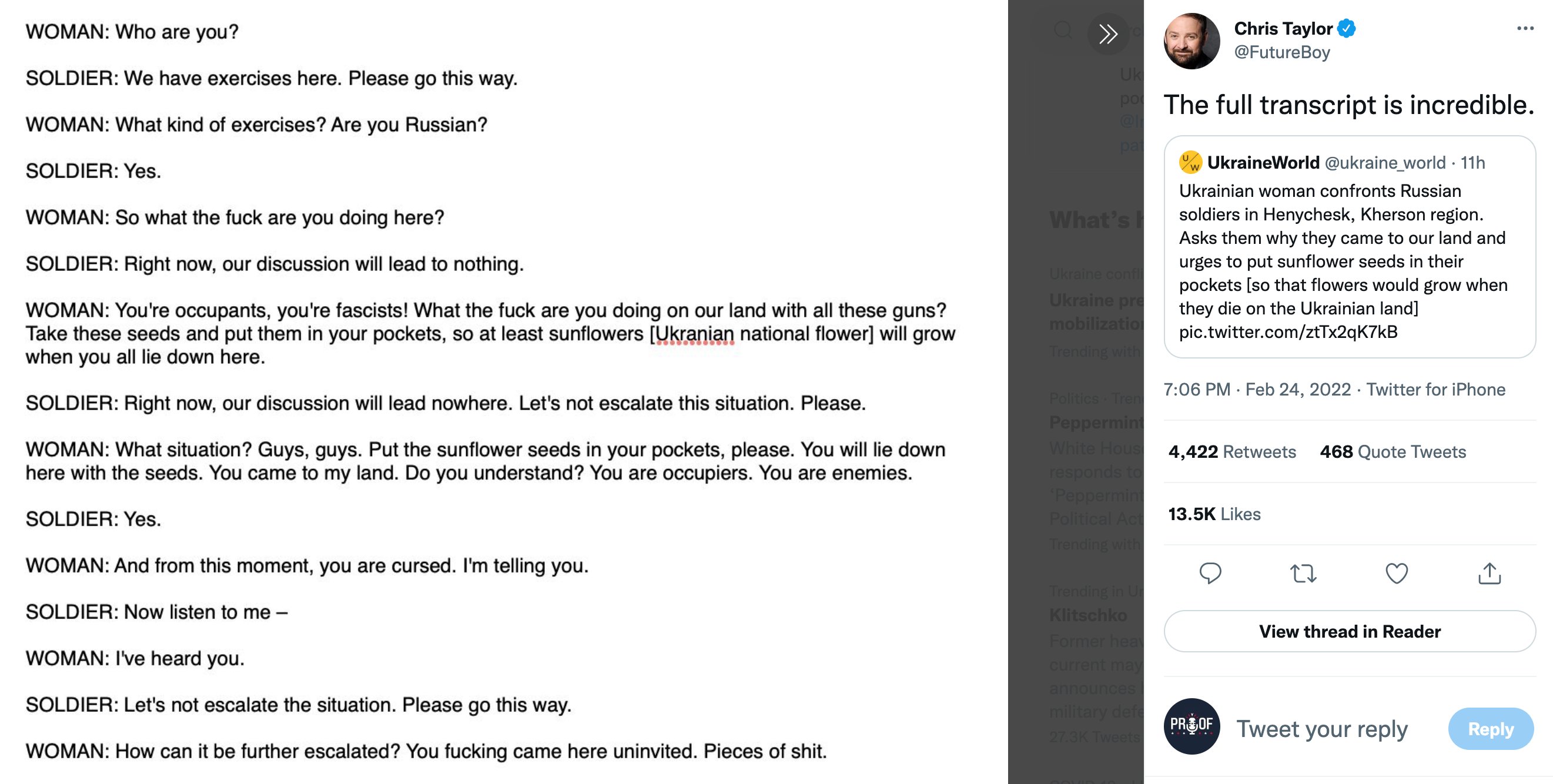 Soldiers say they are out of gas. Driver offers to tow them back to russia. Everyone laughs. Russian soldiers ask for news on how they are doing in war. Driver tell them that Ukraine is winning, russians are surrendering and impliest that they should too.
A priceless exchange of a brave Ukrainian citizen with Russian army stuck out of fuel. ENGLISH SUBTITLES.

[Thanks to my Ukrainian friend for transcription and translation] pic.twitter.com/Rar3WRXEwD

— Ali 🇺🇦🕊 (@aliostad) February 26, 2022
President Zelensky is 44 years old. He has two children, and his first language is Russian. He is Jewish, lost family in the holocaust, and his grandfather fought against Nazism. 🇺🇦 Do Russian soldiers even know what they're fighting for? #UkraineUnderAttack #Zelensky #UkraineWar pic.twitter.com/ScaUPqGw64

— Tara Valentine Downs (she/her) (@TaraVDowns) February 26, 2022
Zelensky: 'We successfully fought off enemy attacks. We are defending our country, our land, future of our children. Kyiv & key places near the capital are under our control. The occupiers wanted to capture our capital and install their puppets like Donetsk. We broke their idea.' pic.twitter.com/3PtnzXmPoy

— Christopher Miller (@ChristopherJM) February 26, 2022
The ghost of Kyiv.
The bridge hero.
The heroes on Snake Irland against the War Ship.
The 80-year-old enlisting w/ his sandwiches
"When you attack us, You will see our faces, not our backs" ~ Ukraine president
Ukrainians have a country to fight for, the Russians do not even know why they're fighting Putin's War
This is really quite something, from #Ukraine's Ministry of Defense:pic.twitter.com/ZV8lbL6me3

— Charles Lister (@Charles_Lister) December 3, 2021
Apple Pay and Google Pay no longer work on #Moscow's metro system | EMPR #russiaukrainewar pic.twitter.com/Ju91E4WbAW

— Euromaidan PR (@EuromaidanPR) February 28, 2022
The Putin regime has arrested over 6,000 people for protesting against the war in #Ukraine, according to @OvdInfo. Despite the repression, Russian civil society continues to raise its voice. Your #нетвойне #NOtoWar will be key to achieve peace. We are with you!#RussiaIsNotPutin pic.twitter.com/Z31hABJY8q

— Diana Riba i Giner (@DianaRibaGiner) February 28, 2022